ARCTIC CIRCLE RACE
RUN THROUGH THE WILD
15th AUGUST 2020
To fly a helicopter through the wilderness in this region is nothing unusual.
Many of the residents of Arjeplog has probably done it more than once. Perhaps for the grouse hunt that begins in late summer. Or reindeer keepers who use the helicopter as an effective resource in their business.
A less common cause is to be flown 17 km in the wilderness to run back to civilization, but now you have your chance!
Allt om vår åtgärder gällande Coronaviruset
Allmän uppmaning
Vi följer Folkhälsomyndighetens rekommendationer och uppmanar alla deltagare att göra det samma. Håll avstånd till varandra, noggrann hygien och deltag inte om du känner symptom.
Registrering
Vid registreringen håller vi långt avstånd i kön och personal plockar fram din nummerlapp.
Timing och dagsprogram
Vi ser gärna att tävlingsklasserna kommer iväg först. Ursprungsplanen var att loppet startar klassvis. För att undvika folksamling så kommer vi att köra löpande start. Det innebär att så fort ni landat på startplatsen värmer ni upp och börjar sedan löpa. Dom tider ni fått i er bekräftelse kan fortsatt ses som aktuella.
Helikopter
I helikoptern används inte headsetet utan det som gäller är munskydd och hörselproppar. Den utrustningen är varje deltagare skyldig att ta med. Dela helikopter med ert sällskap/bekanta. Om ni är ett sällskap som tillhör olika klasser, utgå i från den deltagare som har tidigaste tiden. Är du ensam eller om ni är färre än en full helikopter kommer ni att få dela med andra personer. Det är varje individs val och ansvar att kliva ombord på helikoptern. Möjligheten att vandra till startplatsen finns. TÄNK PÅ SMITTSPRIDNINGEN! Handsprit finns tillgängligt och munskydd är obligatoriskt.
Meddela personalen som lastar helikoptern vilka ni vill åka med. Det ryms 6 respektive 4 passagerare ombord. Det brukar bli lång men trevlig kö till helikoptern. Tänk på att hålla avståndet i kön.
Folksamlingar
Undvik att bilda folksamlingar. Vid registrering, vid helikopterplattan, vid startplatsen, vid vätskekontrollen och vid målgången. HÅLL AVSTÅNDET!
Vätskekontroll
Efter ca 10 km har vi en omtalad och beryktad vätskekontroll. Här finns mycket mer än bara vätska. En hel del att tugga på och massor med glada hejarop. HÅLL AVSTÅNDET!
Målgång
Vi vet först när samtliga tävlingsdeltagare är i mål vem som vinner. Vi kommer inte att hålla någon prisutdelning med självklart får alla medalj. Vi uppmanar att inte bilda folksamling i målfållan. Det är såklart trevligt att reflektera om sina och andras insatser men gör det med gott avstånd mellan varandra.
Get ready!?
The challenge is 17 kms through rought terrain. 
You will fly with helicopter 17 kms into the wilderness and run along the polar circle back to the civilization. Take the chance to experience the magnificent nature and sense of freedom that is present in this race. 
Entry fee: 1000 SEK
Entry fee including heli transfer: 1600 SEK
(Yes, you can choose to hike to the starting point.)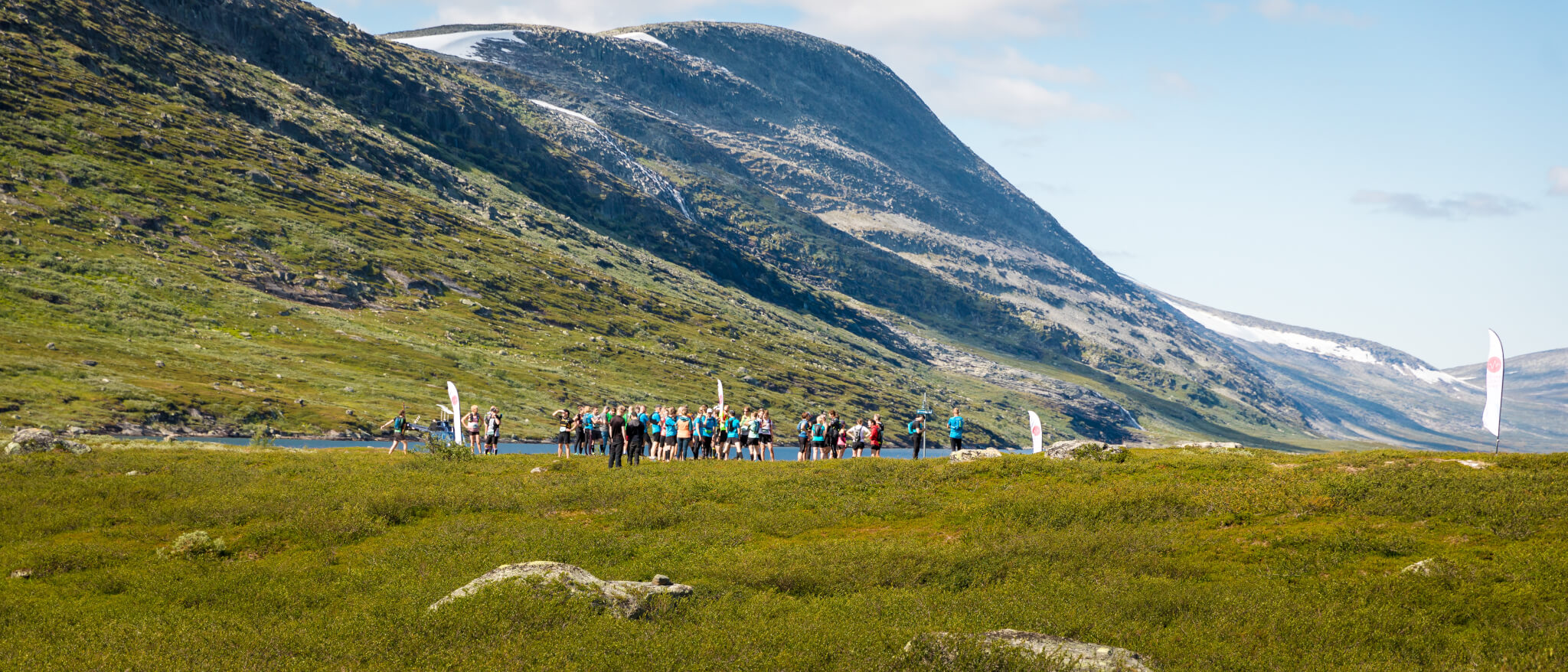 ARCTIC AIR
The contestants will be flown with helicopter out to the start point at the east side of lake Guijaure, 17 km west of Camp Polcirkeln. The race will then with almost precision follow along the Arctic Circle. The contestans are divided in four classes. The timing and flight arrangements are determined by the differnt classes. 
THE TRAIL
The trail will be marked with signs and distance information every kilometer. The course is about 17.2 km of varied rought terrain.
The start is 690 m.a.s.l. the highest point is 805 m.a.s.l. and the target is 480 m. The last 4 km of the course is quite steep dowhill and drops from 740 m.a.s.l. to 480 m.a.s.l.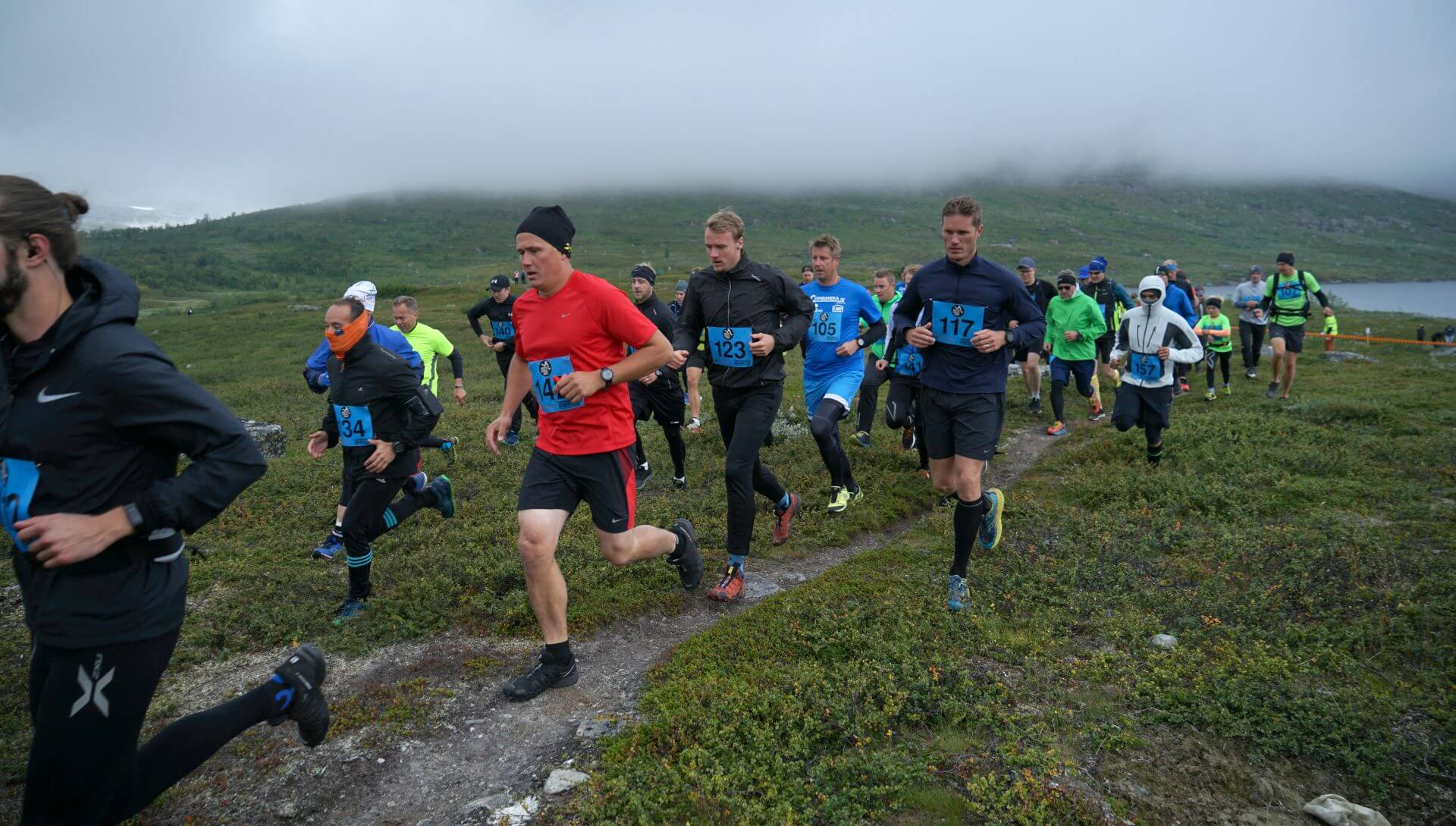 CATEGORIES
You choose your group/class/category when you registrate for the race. There is four categories: men's competition, women's competition, men's exercise, women's exercise.
Competition categories start first and men's start is estimated to 10.00am. There will be a time span between the starters and timing for start arrangements will be announced in your booking confirmation. 
Prize ceremony to the top three for competition categories will take place at finish area around one hour after third place in both men's and women's competition category crossed the finish line. 
CHECK IN
Check in, parking, finish and starting point for helicopters are at Camp Polcirkeln, 100 kms northwest from Arjeplog along route 95.
Camp Polcirkeln
Polcirkeln 3
93894 Arjeplog
Bilder från ARCTIC CIRCLE RACE 2019